Chris & Allyson vs. Europe (2013)
Amsterdam Day Three: Anne Frank House. Bloemenmarkt. Albert Cuypmarkt. Rijksmuseum. Diamond Museum. Houseboat Museum.
Your first day in Amsterdam was about getting acclimated. Now it's time to explore the city and have some truly authentic experiences.
You're practically a native now! You probably have a drug connection somewhere in the city, you can use public transportation with a minimal amount of fear, and in your heart you secretly know that the quasi-socialist democracies of Northern Europe are where it's at. Now you can enjoy the city at full throttle, which on a bike is still only about 10 mph. But let's go!
MORNING: THE CHEERY SIDE OF AMSTERDAM
Get up bright and early on day three to enjoy one of the most treasured attractions in the entire city: The Anne Frank House! People will start lining up way early, so slap on your smile and get out of the hotel as soon as possible. You wouldn't want an hours-long wait to suck all the fun out of the light-hearted adventure that awaits you!
A view of Anne Frank House, from across a canal.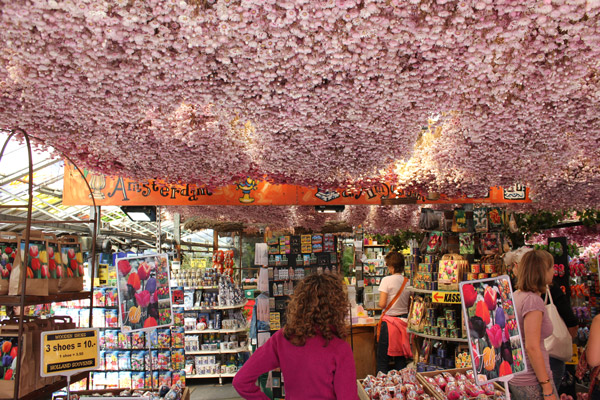 A self-portrait from inside the Tulip Museum.
Smelling the metaphorical roses at the Tulip Museum.
An escape artists performing in Dam Square.
Dam Square is a thriving hub of tourism and all-around traffic.
Having a great time at the torture museum.
Anne Frank House
The Anne Frank House is a profound reminder that Amsterdam is, in fact, close to Germany. Anne was the daughter of Otto Frank, a Jewish businessman who was born in Germany. As anti-Jewish rhetoric escalated in the 1940s, Frank protected his businesses by transferring them to non-Jewish associates. He also made preparations to evacuate his family, but the outbreak of war changed those plans. Frank converted storage space in one of his offices into a hidden apartment and moved his family there. Aided by friends and associates, they successfully hid from Nazis for two years. Hooray!
Then someone ratted them out, the family was hauled off to concentration camps and only Otto survived the war. Booo.
Otto preserved his family legacy by making his daughter's diary into required reading for hundreds of millions of public school students. The old canal house where they hid is also now a wonderful reminder of their personal struggle and the banality of evil. The tour begins in a visitors center adjacent to the canal house, then continues with a slow walk through the historic structure. There are a limited number of "artifacts" left in the apartment, but displays and videos along the way show how the space was used and detail the lives of the Franks both before and after they went into hiding.
The Franks weren't an overly remarkable family; there are richly detailed accounts of how regular they were. (Some of the most moving displays are video interviews with Anne's childhood friends.) Because of this, the diary and the museum do a stunning job of humanizing the Holocaust, even as it becomes more of an abstraction to younger generations.
This won't stop some visitors from sitting on the Franks' original furniture. You can't reach everyone.
The Markets of Amsterdam
If the Anne Frank House doesn't fully wake you up, you're just a short stroll from the Bloemenmarkt, the world famous floating flower market of Amsterdam. A series of vendors have established shops on floating platforms in the Singel canal. You can browse them at your leisure, or until the proprietors start to give you the stink eye for taking photos and not buying anything. If you are in the shopping mood, be sure to pick up tulip bulbs for everyone at home. They're a perfect gift that says, "Hey, here's a reminder that I went to Europe, that you will have no idea what to do with and can throw away in two months."
And while you're enjoying markets, you can take a short tram ride south to enjoy the Albert Cuypmarkt. Amsterdam's favorite street market features several blocks of vendors peddling everything from second-hand clothes to third-rate lingerie. It's a vibrant display of people lazily searching for dubious bargains in an outdoor atmosphere.
Street markets are a great way to experience the "authentic" Europe -- remember, you can't purchase goods of dubious origin in an outdoor setting from people speaking a foreign language in any American city. Unless it's an American city with a population of more than 40,000, in which case you have that opportunity every weekend.
AFTERNOON: THE ARTSY SIDE OF AMSTERDAM
With most of an afternoon stretching before you, this is a great opportunity to learn about 1,500 years of Dutch history, view all the significant works of Dutch art, and process every significant part of their culture and way of life. Here's hoping you ate a big breakfast. Use public transportation to make your way to Museumplein district for a truly immersive cultural experience.
The famous iAmsterdam sign, positioned by the Rijksmuseum.
Inside the Rijksmuseum, the approach to the Night Watch.
A sailing nation puts model ships in its art museum. Rijksmuseum.
Tasteful displays abound inside the Diamond Museum.
Experience life on the canals at the Houseboat Museum.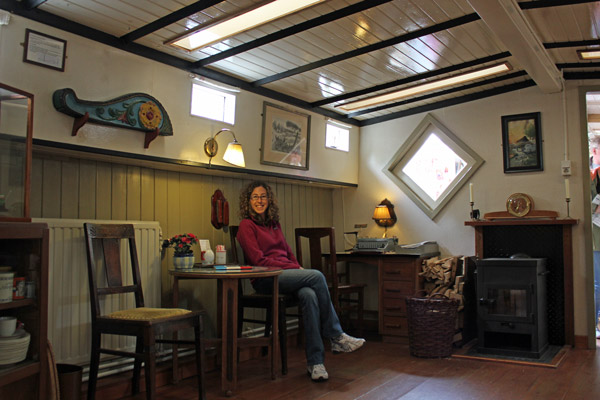 Living modestly (at horrible expense, no doubt) at the Houseboat Museum.
A nautical decoration for a nautical home. The Houseboat Museum.
The Rijksmuseum
The symbolic capital of Dutch culture is the Rijksmuseum, a stately structure located in the Museumplein neighborhood. The building dates to 1885, and it is the Netherlands' greatest depository of art; most people know it, however, as the thing in the background when you photograph yourself climbing on the iconic "iamsterdam" sign. As you hustle through the Rijksmuseum, be sure to splendor in centuries' worth of painting and sculpture. Or just make a bee-line to "The Night Watch," the enormous Rembrandt work that is clearly the crown jewel of the collection. Completed in 1642, the painting shows a small paramilitary group standing still doing nothing in particular.
The Diamond Museum
Just steps from the Rijksmuseum is the much smaller Diamond Museum. Founded in 2007 by a jewelry company, the small facility tells the story of the diamond and jewelry trade as it pertains to Amsterdam. It is very difficult to determine if diamonds are particularly important to Dutch history, but visitors will leave with pictures of diamond-encrusted monkey skulls and tennis balls. So, there's that.
The Houseboat Museum
Once you've absorbed all that you can about diamonds and Dutch art, it's time to head back toward the city center for another museum experience, because otherwise why buy the dumb iamsterdam card in the first place? Houseboats are an iconic part of Amsterdam's culture, and the quaint dwellings line many of the city's canals. The Houseboat Museum, however, is not a museum about houseboats. It is a houseboat, which you can board and walk around to see an authentic slice of Amsterdam life. If you don't have a burned-out friend living on a houseboat in Amsterdam to hang out with, this is a valuable use of your time. Has anyone of any importance ever lived on houseboat in Amsterdam? Probably not, because it would be tough to do important things when heroin addicts keep humping on your deck. But if you have that iamsterdam card you'd be crazy not to do this.
A TASTE OF AMSTERDAM: Pancakes
Many travelers head to Amsterdam in search of an "authentic" experience: psychedelic drug use followed by vigorous patronage of a legal prostitute. Couples travelers who are less adventurous might want to stick to the local cuisine. Pancakes are a treasured part of Dutch culture, for reasons that no one will ever fully explain to you. But be sure to spend at least one meal at a local pancakerarium! And don't expect your typical American breakfast pancakes. The Dutch have embraced flapjacks as a delivery system for a wide variety of ingredients. Forget a simple banana. A pancake might be the base for an Indonesian feast, for some reason. Look, just eat them.
A truly international house of pancakes.
Breakfast for dinner? Why not.
TRAVEL TIP: Everyone lies
Got a question? Feel free to ask the friendly locals of Amsterdam. Just be cognizant of the fact that when Amsterdamerians don't know the answer, they will lie to you. They do not say, "I don't know." Instead, they will give you bad directions, or answer very definitively as though they actually have the information you seek. But they are lying. Why? No one knows.