Chris & Allyson vs. Europe (2017)
Portugal Day One: Shopping at El Corte Ingles. Santa Justa Lift. Bairro Alto. Se Cathedral. Castelo de Sao Jorge and Alfama.
At some point in my 20s, I got the notion that Portugal would be a cool place to visit. I never studied Portuguese history, and I never bothered reading much about the people. But the idea stuck. Whenever it was time to plan a vacation, Portugal was tossed into the discussion. A mere 17 years later, that dream became a reality!
Of course, when I dreamed of visiting Portugal, I envisioned not being smelly. We woke up in the Hotel Fenix Urban in downtown Lisbon, but our luggage woke up somewhere in Frankfurt.
Our cab driver from the night before gave us the info we needed: A big "shopping mall" was a few blocks up the street from the hotel. The store in question was El Corte Ingles. Neither Allyson nor I had heard of it, but the interwebs tells me it's the biggest department store chain in Europe.
In American terms, it seemed like a Macy's and a Nordstrom's had an extremely fat baby that then grew into a very fat adult. El Corte Ingles was bursting with designer clothing, mostly at designer prices. Allyson joked that we should go full "European Vacation" and buy the fanciest stuff possible. That was funny, until we looked at the prices on casual wear.
But part of vacation is spending money you never wanted to spend. Allyson got underwear, shirts and shorts. I got a surf shirt, underwear and socks. It took us about an hour, because even though the brands were familiar, some things were a little off. For example, in Europe a men's "extra large" is the equivalent of an American "child's medium." Either Americans are ungodly fat, or European men truly enjoy wearing pants that will render you sterile the moment you put them on.
After slipping into our new duds at the hotel, we hit the streets. Portugal has 10 million people, and the Lisbon metro area is home to about 2.8 million of them. But the city isn't all that crowded. It has no skyscrapers, and there are plenty of green spaces. My overarching impression is low-slung buildings with orange tile roofs, and alleys that seem vaguely Medieval.
However, big parts of Lisbon aren't THAT old. The creatively titled Great Lisbon Earthquake of 1755 did an insane amount of damage and killed somewhere between 10,000 and 100,000 people. Apparently it was such a severe earthquake that it crippled people's ability to count corpses with any degree of accuracy. If you're willing to look past singed or crushed bodies, there is a silver lining to big urban earthquakes and fires: They clear the way for new development. The 18th century Portuguese monarchs laid out an aggressive rebuilding plan, transforming parts of the rubble heap into a thoroughly modern (for the 1700s) European city.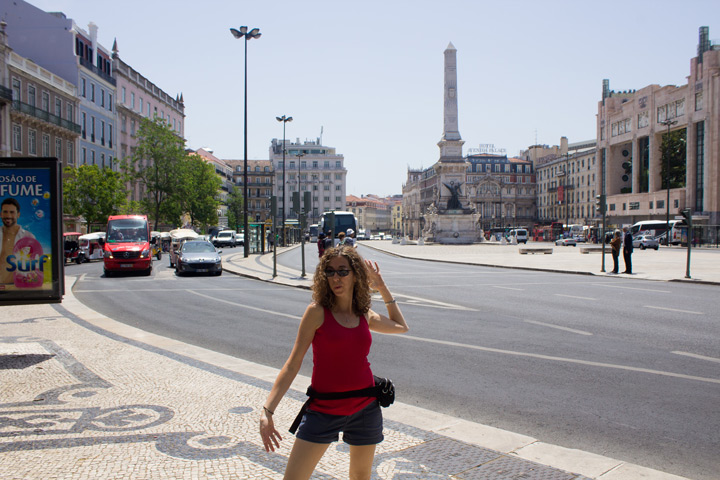 New country, new city, and (unfortunately) new clothes.
The Santa Justa lift, a marvel of not-modern engineering.
Looking back along the walkway to the top of the lift. Castelo de Sao Jorge in the distance.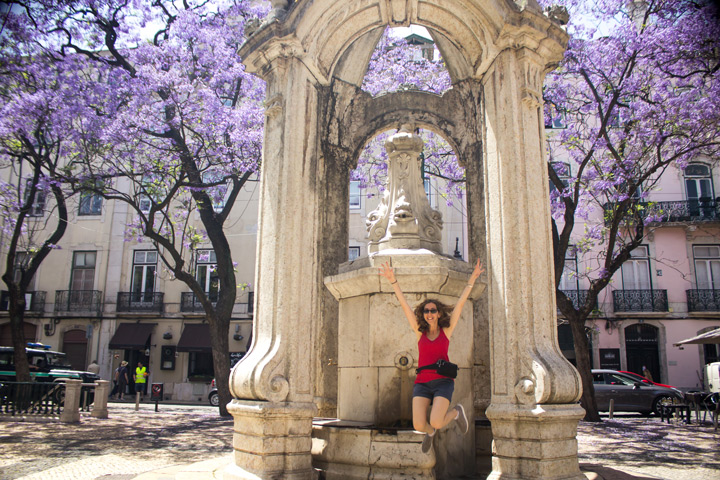 A beautiful plaza in Bairro Alto -- the neighborhood at the "top" of the lift.
Sand sculptures on the Tagus, near the Praca do Comercio.
Se Cathedral, the oldest in Lisbon.
The cloister at Se is an active archaelogy site.
Crypts at the back of Se, ornamented with some eternal best friends.
Tile walls like this are all over Lisbon. I look good in front of all of 'em.
Our first real exploration of Lisbon was along the Avenida da Liberdade (Liberty Avenue), a wide arterial road running through the heart of "downtown" all the way to the water. Our cab driver called it the Champs-Élysées of Lisbon. Minus the annoying French people. It's cool. The sidewalks of that street, like many in central Lisbon, are cool cobblestone mosaics with geometric patterns and flourishes. There are big trees shading the walk; there are wide plazas filled with important looking statues and fountains; there are cafes and boutique shops mixed in with the tourist shops. We picked our way through some side streets before finding our target: the Elevador de Santa Justa.
Yeah, it's an elevator. Lisbon is built on a lot of hills. Liberty Avenue runs along the valley floor between two of them. In the time before cars and trolleys, it was a big pain in the ass to carry yourself or your cargo from one neighborhood to the next. People wanted shortcuts, and the Santa Justa Lift is one of the most elegant shortcuts. It's a metal tower that lifts people more than 100 feet, to a ridgeline in the Bairro Alto neighborhood. They finished building it around 1900 -- when elevators were still a seriously cool thing. It's also a pretty piece of engineering, because back then people still gave a crap about making industrial things look nice.
The modern-day result is that people will pay money and wait in line to do something they can do any day: ride a 10-story elevator. We got in the queue, and within 15 minutes we were inside a fine wood-paneled car with 20 of our closest tourist friends. A few seconds later, we were at the top. Whee!
Fortunately, the Santa Justa Experience is padded by a visit to the viewing platform atop the tower. It gives an excellent view of the Tagus River, and the castle on the hill across the valley ... which more or less guaranteed that we'd be visiting that castle in the not-too-distant future.
Unfortunately, the Santa Justa Lift did NOT take us anywhere interesting. My hope was to visit the Igreja do Carmo, a 14th-century church that was turned into cool-looking ruins in 1755. The upper walkway of the lift deposits you right by its entrance ... but it was closed for a private event. Jerks. We did at least enjoy a beautiful little square, accented by some amazing flora. DC has the cherry blossoms; Lisbon has the jacaranda trees, which are an awesome purple and smell pretty good. It was complete luck that we planned our trip for their peak blossom.
It seemed silly to take the elevator back down, so we explored the nearby neighborhood and made our way down to the river on foot. Maybe 30 minutes later, we were by the edge of the Tagus, enjoying lunch and beers at a café on the Praca do Comercio. That huge square is flanked by a huge palace -- for years, it was the official Lisbon residence of the Portuguese kings. Now it's been repurposed into multi-use government buildings, or something like that. (There's no tour.) We had our meal, got an up-close look at the river, and decided to find that castle.
This meant walking up the other side of the valley, into the neighborhood known as Alfama. There's a lot of history there -- Lisbon has as many layers as Budapest -- and here's what I remember: When the Moors conquered the Iberian peninsula, their castle in Alfama was the heart of Lisbon. It was the military and political center of the town, and all the narrow alleyways around the castle were where the Moors chose to live. When Catholics reconquered the city around 1150, their kings continued to live in the Alfama castle for a few centuries before relocating downhill to the riverbank. Alfama today is a little bit gritty and a lot bit historic.
The first stop was Se, the city's cathedral. Unlike some of the elegant churches around town, Se looks like a brick shithouse, and for good reason. It dates to the 12th century. Yes, it's two times older than New York City. To drive that point home, the cloister of Se is an archaeological dig, with evidence of Roman and Moorish buildings not far below the surface. When they say real estate is all about location, they aren't kidding: People have been redeveloping the same lot for two millennia. As an added bonus, a children's choir was practicing when we walked through. Usually if you hear a children's choir in a place with vaulted ceilings, you should leave, because the minions of Satan are about to attack. But this time it was kind of pleasant.
The second stop was the Castelo de Sao Jorge, which we reached by following the tourist foot traffic up some winding streets. Like I said a second ago, the castle originated as the center of Moorish Lisbon, then became the home of the Catholic kings. When money started to roll in from the spice trade, the royals moved to extravagant new digs on the riverbank. The castle remained, serving as a jail, and a garrison, and a theater, and a rumpus room, and a great place for the king to take his mistress. It was badly damaged in the earthquake and fell into disuse.
Castelo de Sao Jorge. Great location, great history.
Sitting in the catbird seat. Castelo de Sao Jorge.
If you want to SEE Lisbon, there's no better spot than Castelo de Sao Jorge.
Peacocks have free reign over the castle courtyards.
It's like they know they're being photographed.
Some reminders of the castle's military past.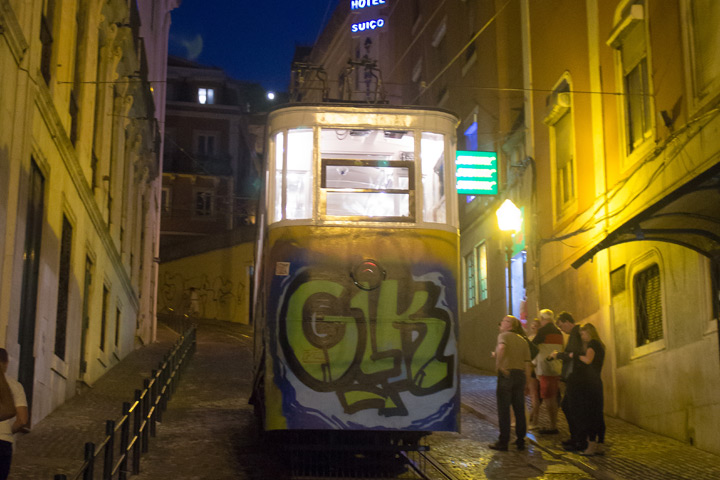 One of the Lisbon inclines, shutting down for the night.
But it found new life! Portugal had a dictator (António de Oliveira Salazar) from 1932 to 1968. And while dictators are mostly problematic, they're really great at stupidly expensive projects to boost national pride. Salazar ordered the repair and renovation of many historic structures. That included the castle, which was transformed into a nostalgic, romantic city park. It has great views of the city and the river. It has walls to climb on, and a courtyard café that serves alcohol. It has peacocks wandering the grounds, for some reason. They didn't have any English tour pamphlets left, but you really don't need them. It's just a cool place to hang.
Once the sun started to dip, we picked our way downhill through the alleys of Alfama. You can view them as quaint, or as the perfect place for attackers to surprise you. The people living in the neighborhood come out and sit on the doorsteps to chat, while bars set up for tourist friendly fado shows. (Fado is the folk music of Portugal, and we didn't bother with it, because folk music is generally boring across all cultures unless you're the kind of person who owns a VW microbus.) Laundry lines crisscross the streets and strings of lights guide you from one blind alley to the next. You pass countless examples of "azulejo" tiles, the colorful ceramic coverings that turn even the most boring wall into an eye-popping display. The whole neighborhood has some nice vitality to it.
It was time for dinner, which brought us to the only real hitch of the evening. Going vegetarian is a life choice that the Portuguese have decided to ignore. The highlights of Portuguese cuisine are seafood and sausages. If you're big on vegetables, that's your problem, and Portugal isn't going to lose any sleep over whether you solve it. If you're traveling with a vegetarian in Portugal, hope that they enjoy Greek salads and "cheese toast." Allyson is sort of vegetarian, so we staggered from restaurant to restaurant, checking menus. We eventually wound up back where the afternoon started, in the jacaranda courtyard near the Santa Justa lift. We were hungry enough that we settled on an "international" restaurant for the first of many non-memorable dinners in Portugal. And after a long and sweaty day of touring, we returned on foot to our hotel ...
... where our luggage wasn't waiting. Yet.