Chris & Allyson vs. Italy & Croatia (June-July 2019)
Croatia Day Three: A scenic drive to Split, touring Diocletian's Palace, Froggyland
The true spirit of the Ragusan Republic is to travel. There is no better way to experience the ethos of Dubrovnik than leaving it. Also, we had seen all the major tourist attractions and had already made some non-refundable deposits on excursions and hotels further north.
But mainly, for all you know, we wanted to honor the Ragusans. On Friday we split Dubrovnik, headed for ... uh, Split.
This was going to be a very nice drive. Southern Croatia is very narrow, so if you're heading north and you stay off the A1 (the major highway up in the hills), you're along the water. We pointed the GPS toward the D8, the coastal highway, and let the magic happen. This was mainly my idea. I love a scenic drive, going back to the days when I was a touring stand-up comedian with 600-mile itineraries and a Volkswagen Jetta with a six-disc changer in the trunk. I honestly believe that you get a much deeper understanding of a region and its people if you physically move through it. Stop at its truck stops. Get dirty looks from its hillbillies. Eat at its Arby'ses.
Allyson mostly falls asleep in cars, so she let me have this one.
The slight bummer about coastal drives is that if you appreciate the scenery too much, you miss a curve and plummet into the ocean. You'll have a smile on your face as you plunge into your watery grave, but it's not ideal. The D8 was a windy road, so I had to stay focused. We passed some scenic towns, saw a lot of scenic views in our peripheral vision and did not crash the car. It was a win, honestly. We stopped a few times to stretch our legs and take in the views. We spotted what we assumed were mussel farms, nestled in some protected inlets. Mussels don't grow on trees; they grow in small Croatian towns where there's not much else to do.
We also briefly left Croatia to visit sunny, scenic Bosnia. Yeah.
The Neum Corridor is a tiny strip of land where Bosnia — Croatia's neighbor to the east — breaks through to touch the sea. We were later told that this was a byproduct of the Ragusan era — in their effort to "balance" the superior powers around them, the Ragusans felt that the Ottomans — to whom they paid protection money — could serve as a buffer from Venice. Neum spared Ragusa from sharing a land border with the Venetians. Today, there's a "resort" town crammed into that strip of land — it's very beat up, and sort of busy, kind of like the Bosnian equivalent of Wildwood, NJ — and not much else. We had to show passports when we crossed into the corridor, then once again on the way out. (The checkpoint heading south was much, much busier — most people probably do their Croatian vacations north to south. We were going against the grain and loving it.)
Technically, we didn't have all that far to drive, but speed limits in Croatia are pretty low and you can't gun it on the D8. Around lunchtime Allyson was starting to snooze, and I spotted a sign on the ocean side of the road promising a restaurant and a parking lot. As that met our high standards, it seemed worth checking out. We pulled down a steep and short gravel road to find a small gravel car park that could maybe hold five cars, tops. From there, we descended a steep staircase to sea level. There was a small local road set off from the sea by a thin, rocky beach.
This was Croatia's equivalent of a one-lane beach town, where Europeans or locals might float the day away at reasonable prices and look askance at the gringos. I think it was called Zaostrog. Whether that's a real place, a 1960s sci-fi space alien or the Croatian beach equivalent of Brigadoon, I leave to the universe. Naturally, the restaurant mentioned on the road sign was closed; in true beach town fashion, they opened for lunch at 2:30. We therefore had no moral qualms about taking up 20 percent of their parking as we explored the area. There was a beachside pizzeria just down the road, where you could enjoy some Americanized food and watch people play in the water. We walked on the beach a little afterward. It was pleasant!
The memory was slightly tainted when the pizza threatened to leave my body in a very rude fashion a few hours later. We were somewhere around Omis, a more-developed beach town just southeast of Split. My stomach commanded us to pull over ASAP, but we couldn't spot anything with a convenient facility. Biology forced the issue, and we parked the car to find what looked like a beach bar. I wasn't going to s*** my pants on vacation. In true Croatian fashion, no one working there greeted us, made eye contact or initiated any kind of customer service interaction. Allyson did spot some bathroom entrances on the wall facing the parking lot; one was locked, but it seemed that the women's room was open. The light wasn't working, but we were at DEFCON 1 and had no interest in starting an international incident. I used the restroom in the dark. And then I discovered that the water wasn't working either, and that the only paper product was half a paper towel. This was not a functional bathroom.
As representatives of America, it was on us to make sure America was not blamed for this heinous incident. So we speed-walked out of there before anyone could notice or ask us what we were doing. We laughed about it later. The people at the beach bar probably didn't.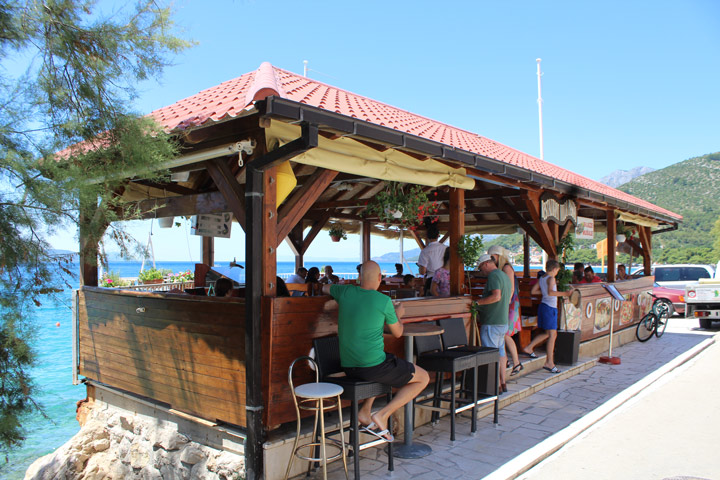 Lunch by the ocean. Aftermath of lunch not pictured.
Getting palatial at our Split "apartment."
Diocletian's Palace, where the elite meet for discreet treats.
Gregory of Nin, looking stern AND sexy.
Dreams really do come true.
But we were on to Split, a very different kind of town. It's very old, but also a lot more modern. It sits on the edge of a coastal plain with lots more space to expand, so it has way more industrial development. There are office parks and factories and stadiums and all the things that make modern cities both more functional and less attractive. The D8 took us through the rougher parts of town, looped around the historic core and then plunged into the tourist heart of the city.
And the heart of Split is ... Roman. Yes, Croatia is a giant layer cake of history, so you get something different with every bite. The historic center of the town is Diocletian's Palace, once the fortified retirement home of a Roman emperor. A few subdivisions and 17 centuries later, it's a nightlife district just off the harbor, surrounded by a very impressive wall. And of course we were going to stay there. Allyson had found an apartment available for short-term rental in the center of it all, overlooking the square at the heart of the palace complex. It was unbelievably convenient to all of the action in Split, and more important, it let us tell people for months in advance that we were going to stay in a palace.
For all their alleged brilliance at engineering, the Romans never figured out ample parking spaces. You cannot drive into Diocletian's Palace, and if you did your car would get wedged in most of the alleys. The advance planner in me gets very anxious about parking, so weeks ahead of time I found an underground parking garage that seemed pretty close to the action. In hindsight, "close" is a relative term when you're pulling two giant suitcases over ancient stone streets. Allyson wanted to leave the bags in the car and make sure we could check into the apartment we were renting. I was feeling stubborn about the awesomeness of my advance planning and insisted on dragging the bags with us as we searched for the place. In hindsight, Allyson was probably right on this one, and I only tell you this because it's 50/50 that she'll ever read this paragraph.
We hauled the bags for about 10 minutes, walking along Split's waterfront and trying to find something that looked like a palace. In the process we inadvertently walked in via the Iron Gate, an entrance camouflaged by some of the more modern (i.e. 500 years old) additions to the palace wall. We dodged a few pedestrians and actually found the apartment door, tucked in a narrow and crowded alley just off the main square. Naturally, it was locked. Someone was supposed to meet us there to let us in. Per their request, we e-mailed in advance and told them we'd be there at 5, which we were.
This was of little consequence to the caretaker, once we got her on the phone. She wanted us there at 3 and was very irritated that we did not show up two hours earlier than we promised. This woman, whose name I did not record, was the Croatian version of a "piece of work." She complained about the owner of the apartment, calling herself his "slave" a few times — the Romans might have quibbled with her definition — and did her best to be earthily charming as she showed us around the apartment. Then when it was time to pay the balance on our rental fee, she was suddenly unsure if we could use a credit card and asked to be paid in cash. We had to find an ATM, get reamed (international transaction in a tourist district = obscene fees) and fork over the money.
Allyson was rightly flummoxed by all this, since our entire Split experience to this point was hit-and-run defecation, dragging suitcases over cobblestones and then getting kinda sorta berated by someone to whom we were paying money. She wanted to decompress for a minute, and fortunately we did have a very nice apartment to do it in. We were, in fact, in a palace within a palace. I quote now a very helpful plaque on the exterior of the building:
"The medieval house of the old Split patrician family of Grisogono was constructed on the corner of the Decumanus (the main street in Diocletian's Palace) and the Peristyle. It is part of a larger Romanesque family palace of the 13th century. In the second half of the 15th century it was remodeled in the Gothic style. At the beginning of the 21st century it was restored, together with the pained Gothic ceilings on the first and second floors of the palace." They also put in some TVs! And a very modern shower! And some WiFi! We had far more space than two people needed, but after a hard day of driving through a sunny vacation paradise, dammit, we earned it.
One upshot of our stressful arrival to Split was that we had evening plans. While wandering through the palace in search of our apartment, we got directions from a very helpful woman. She may have been professionally motivated to be helpful, because she was selling tickets to a Diocletian's Palace walking tour. It departed at 6:30, and the meeting point was right outside our fabulous Gothic Air BnB. This woman deserved a reward, and we love a good walking tour, so we bought tickets on the spot.
The result was the most miraculous occurrence of any vacation we have taken, or will ever take. Sometimes the universe speaks to you. If you are willing to listen, the divine plan may come into focus.
We had a diverse group: two Indian families, one of them Sikh; some Aussies; and a couple from Mexico City. Our guide, Ante, showed up late, spoke broken but understandable English, and had to be in his 70s. But he moved around like a much younger guy and had a quirky sense humor that broke through any language barriers.
The miracle was tied to the Mexicans. Allyson has a freakish ability to recall faces and names, and as the tour proceeded, her gift sprung to life. The husband was much taller than the wife. The wife asked a lot of questions. The wife mentioned that her parents were from Spain.
We knew these people.
Two years before, we had taken a tour with them somewhere in Portugal. They were hitting up uber-Catholic countries on vacation. The woman liked to chat, and on our previous encounter she had also mentioned her Spanish lineage. By an astounding, mind-boggling coincidence, we had planned vacations to the same locations. On both trips, our itineraries put us in the same city on the same day. And beyond all fathomable design, on both trips we took the exact same tour at the exact same time.
And now the truly remarkable part: The woman did not care. Allyson asked a few questions to confirm the miracle — they had definitely been to Portugal two years before, on the same tour we took. The lady just wasn't interested, or even remotely impressed by the weirdness of it all. We probably should have canceled the tour, said a few prayers and discussed what it all meant. This lady seemed mildly annoyed that we pointed out evidence of a guiding hand for all existence.
Sigh. At least we had the tour to fall back on. And it was excellent. Diocletian's Palace was essentially a mini-Dubrovnik in both look and feel. We started in the main square (which our apartment overlooks) by the big church. Emperor Diocletian (284-305) — originally from Salona — was the first Roman emperor to leave the job voluntarily. He built the palace for his retirement and arranged for a triumvirate to succeed him.
We all imagine a quaint retirement in a seaside villa, quietly tending to a garden with the help of no more than four or five dozen slaves. It wasn't a long retirement — he died after eight years — and it was probably a lonely one, since he executed his own wife after she converted to Christianity. Whether he was deeply offended by the switch or just tired of being nagged, only Diocletian knows for sure.
The church drama didn't end there. Diocletian wound up on the wrong side of history, because Emperor Constantine converted the entire empire to Christianity. At that point, Diocletian's remains were unceremoniously ditched from his mausoleum, and the structure was converted to a church. It is currently one of the longest-operating churches in the world.
Adaptations were a big part of the tour; Ante pointed out spots where the palace was modified over the years to get hip with the times. For example, when the Venetians ruled Split, they had to use bricks to heighten the walls, and add emplacements for new-fangled cannon technology.
Just outside the gates is a symbol of another chapter in the church saga. One of Split's most famous icons is a huge and striking statue of Gregory of Nin, by famed Croatian sculptor Ivan Mestrovic. Gregory was the bishop who translated masses into Croatian, when Latin was the rule. Years ahead of the Reformation, Gregory was punished for his audacity.
They care about their religion in Croatia; Ante said that the church kept Croatian identity alive over many centuries of foreign domination and communist oppression.
One thing is certain: Centuries of tenacity, struggle and faith all set the table for a modern Croatia, where two people from America could go to a vegetarian burger joint inside a dead Roman emperor's palace. Marta's Veggie Fusion was pretty much next door to our apartment, so at the conclusion of the tour we slid in right before the dinner rush. Diocletian was undoubtedly smiling in the pagan afterlife, content in our enjoyment of a beet burger, a black bean burger, and some Croatian craft beer.
I'm not sure how he would feel about Froggyland. You probably get into the emperor business thinking that you'd be remembered forever; that you would be a fixture in the hearts and minds of humanity; that tourists would get the most enjoyment out of learning about you and you alone.
But while the walking tour was great, in terms of sheer enjoyment, Froggyland might have won the day. It's not specifically "Croatian," as I believe the collection was the creation of a Hungarian eccentric. The collection had stayed in private hands for years, passing from owner to owner, with no one knowing exactly what to do with it. Eventually, an inheritor with true vision decide to make a museum, locating it just outside the palace walls in Split.
As to the collection: It's frogs. Hundreds of taxidermied frogs. And they are shown doing very human activities. There are frogs at school, frogs doing the tango, frogs performing in a circus (acrobats, knife-throwers), frogs in a courtroom. The level of detail is ridiculous. We looked at 20 different displays, and our only regret was in imagining the many parts of the collection that had been lost over the years. The guy who did this was either whimsical or incredibly disturbed, but the end result is a one-of-a-kind vacation experience. You can visit more than one Roman palace, but there's only one Froggyland.
It had been a full day of miraculous things, so we returned to our Gothic apartment for some rest. You need to get enough sleep for the miracles to come.