Chris & Allyson vs. Italy & Croatia (June-July 2019)
Croatia Day Six: Plitvice Lakes National Park
Plitvice Lakes National Park is sometimes called the Yellowstone of Croatia. It's the country's first national park, it's arguably the most popular, and it can be the most crowded. You probably won't get mauled by a bear or incinerated by a supervolcano in Croatia. But on the positive side, you are going to see a lot of natural beauty!
Geology is a wonderful science that affects all of us, and we should all be grateful for the hard-working geologians who keep our tectonic plates afloat. Great ships of civilization, those plates. But, having ceded that work to the experts, my understanding of geology is minimal. Here, at least, is the gist of how Plitvice Lakes works, according to several signs and very convincing promotional literature:
The mountains are full of travertine, a variety of limestone. As water flows through the rocks, it breaks down the limestone, carries it downhill and eventually deposits it. Over time, the deposits grow into a natural dam, not unlike the many deposits your dentist gets very upset about. The water builds behind it into a shallow lake or pond. When the lake or pond overflows, it creates a waterfall, and the process repeats farther downhill.
Project that out a few million years and you really have something special. The park has 16 lakes and dozens of waterfalls. As an added bonus, the lake bottoms are rock – as opposed to the American standard of "muck" — so you can see the bottom through the blue and green hues lent by the moss, algae and limestone sediment. It's so beautiful that it has been awarded nature's highest honor: It's sometimes featured as a Windows start-up screen.
It took just one Google search of "things to do in Croatia" to realize that Plitvice was a must. And the travel bloggers had us hyper prepared: Get your tickets far in advance! Make sure you spend the whole day! Prepare yourself mentally and physically for the ultimate in karst geography, for this opportunity shall never present itself again!
In other words, I was excited about this visit, and tense about the variables. We needed the weather to be nice (I also bought us passes for Tuesday, just in case); we needed lodging close to the park; we needed to avoid the weekend; we needed to have the right supplies; and we needed to have a realistic plan for how hard we could go. My lovely wife has a rod in her spine, and on top of that weighs less than 100 pounds. As a pack animal, she's woefully inadequate. I can shoulder heavier loads; I love hiking and usually could go most of a day. But it's less fun if your obliterated toe might gush ichor all over the place.
The plan, researched on the internet, was "Route H." It's a 5.4 mile trip that supposedly gets you to all the park highlights. It starts with a shuttle bus ride to the top of the "upper" lakes, continues by ferry across the big lower lake, then takes you out to the biggest waterfall before returning you to another parking area to pick up a tram. We could probably swing five miles without harming our marriage, and we wouldn't need to carry that much in the way of supplies for those long journeys between concession stands. Studying the elegance and efficiency of this plan, I now see that Lewis and Clark were rank amateurs.
Plans are nothing without execution, however, so we were up at 6. We freshened up and made peanut butter sandwiches using the supplies we had bought the morning before, in Split. Then it was up to the breakfast room of Zrinka House to get chastised. Barbara and Zrinka were already awake and getting the morning spread ready; we figured we'd be leaving too early to take advantage of their hospitality, and we were wrong. Had she lived in the early 1800s, Zrinka would have been waiting for Lewis in Astoria with a fresh cup of coffee and a very disappointed scowl. She finished checking us in from the night before, then scolded us for not packing sandwiches provided by her. She has cold cuts, cheese and baggies for anyone venturing to the park. She wants you to use them. Always bet on Zrinka.
Our entry tickets were good starting at 7 a.m. We were on the road by 7:25, making the short drive to one of the parking areas. There were lots of cars already in the lot, and one got the sinking feeling that maybe one should have left a little earlier. Oh ye of little faith. After we picked up our entrance tickets, we walked half a mile to the tram stop ... and waited. The trams don't start until 8, and Route H requires a tram. My preparation for H had not picked up on that fun detail.
Ready to explore!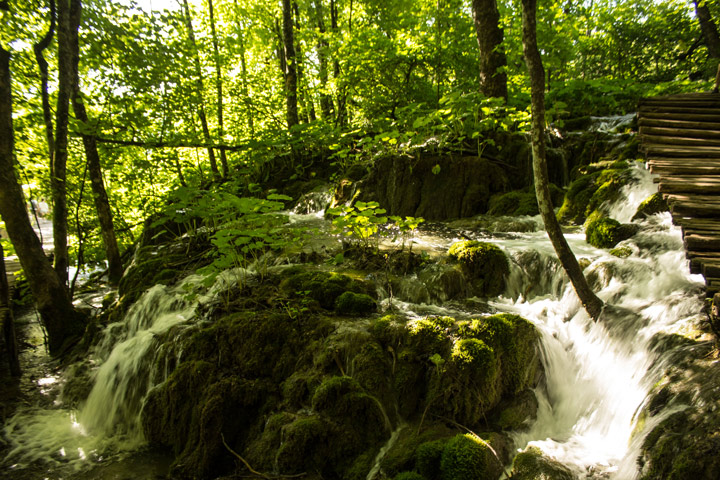 A bridge over pleasantly troubled waters.
Shorelines for days ...
Up close with one of many waterfalls.
But the oversight was to our favor. We were on the first tram of the day, zipping along a winding uphill road, and within a few minutes a milling throng of hikers was dropped at a trailhead leading into the woods.
It was, almost literally, all downhill from there. The Plitvice Lakes are crowded — this was a Monday morning, but the trails and boardwalks are narrow. People stopping for pictures, or snacks, or to carry the strollers and children they never should have brought in the first place, tend to create traffic jams. The day we visited, work crews were using chainsaws and other fun things to repair a section of the boardwalk near the trailhead; everyone had to cross a gangplank to get past them, and early on we wondered if we'd spend most of the day looking at the backs of tourist heads. But once people started moving, groups found their own pace and the human stream opened up
We kept a slower pace, on account of the lakes being so beautiful. The wise Croatian authorities ban swimming to keep human pollution to a minimum; the water is so clear that it looks like the fish are floating through air. We spotted frogs, water snakes, ducks and mice. The trail winds past dozens of waterfalls, with some clever boardwalks even embedded in rock walls so that you're walking
directly over a few minor rapids. There were hardly any bugs, and even though it was a hot day the trees were providing enough shade to keep things pleasant. The blues and greens are so vivid that sometimes it looks like the Caribbean, but with fewer vowels.
Our plan, in short, would not be enough. Route H worked out great. We followed the trail downhill to the park's largest lake, where ferries can shuttle you back and forth. (Unfortunate unforgettable memory: Two American moms hauling their young girls through the park, and the girls decided to best represent America to the international tourism community by singing the "diarrhea" song for the duration of the ferry ride.) On the other side, we followed a spur trail out to the park's highest waterfall and de facto greatest photo op. After climbing out of the valley for a few minutes — with amazing bird's-eye views of the paths below — we found ourselves at "St 1," the tram stop where we could get a ride back to our car. But we didn't want to go.
A weeping wall ... Plitvice style!
Bird's eye view of one of the lower boardwalks.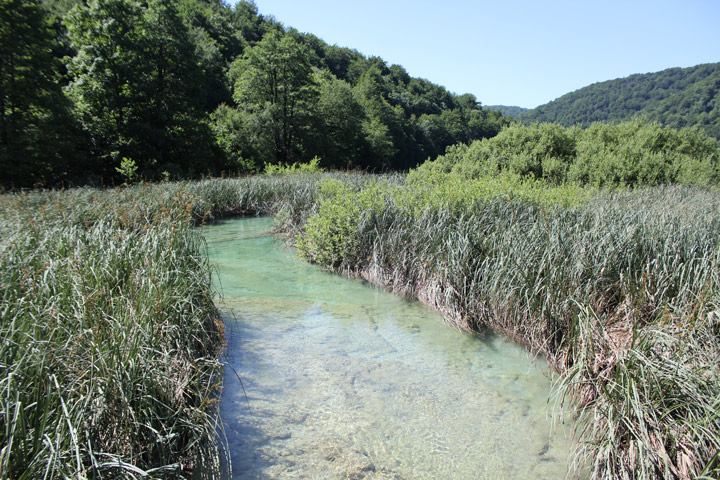 A channel through the reeds ...
Ferrying across the big lake.
Instead we had our sandwiches, confirmed that my toe hadn't exploded, and consulted the maps. You're probably visiting Plitvice Lakes only once in your life, dammit, so you darn well better make the most of it. Our bonus route:
-Back downhill to the ferry station and concessions at "P3."
-Taking a footpath along the western shore of the big lake. There was minimal climbing, since the path stuck to the water. There also was minimal traffic, because 95 percent of visitors probably don't bother with the trail. It ended with a bonus waterfall before dropping us at the "P2" ferry station.
-Short ferry trip to "P1," where we had a beer and some French fries at the park's biggest concession area. You're probably visiting Plitvice Lakes only once in your life, dammit, so you owe it to yourself to try their French fries.
-Drawing on the power of French fries, we completed the lake circuit, taking another uncrowded path along the east bank and reaching "P3" again.
At that point, we were starting to "feel it," to use the medical term. There was a third ferry ride, taking the long way across the lake to "P1." And from there, we climbed half a mile out of the park, straight to the place where we parked our car. It was nine or 10 miles in total, which was a true accomplishment for a man with a busted toe and a woman who (at that point) did not much care for hiking.
We didn't see everything, but when I'm on my deathbed going over my regrets, I think I'll be OK with my Plitvice Lakes experience. Instead I'll probably focus on my hairstyle during high school.
Back at Zrinka House, we had triumphal showers. Then we found a restaurant down the road and had an easy tourist dinner. On our way back we grabbed beers at a local market, took them back to Zrinka's and enjoyed them on our patio. It had been a great day, and our eternal thanks to the geology people for making it all possible.