Chris & Allyson vs. Italy & Croatia (June-July 2019)
Croatia Day Five: Ivan Mestrovic in Split, the fortress of Klis, a detour to Zadar
Overplanning is wonderful. There's nothing more life-affirming than mapping out five destinations for a day, then growing an ulcer as you surge from station to station on a wave of anxiety. To heighten the enjoyment, you get to bark at anyone traveling with you as they politely and reasonably object to your timetable.
But I have been informed by certain parties that it's also acceptable to enter the day without a plan, and enjoy attractions as they come.
The primary objective of our Sunday was to wind up at a boarding house in Croatia's version of "the mountains." Everything else was gravy.
We found the happy medium between the approaches and drank a LOT of gravy.
Breakfast was at the Luxor, a cafe directly underneath our palatial estate. It has a Roman theme, but my journal from the day does not indicate whether it serves a breakfast worthy of an empire. After hauling our luggage to the parking garage – which dear reader will recall was half a mile away, nearly leading to marital turmoil a few days earlier — we returned to the palace to hand the keys over to our favorite slave. On our way out of the palace, we stopped at Croatia's version of a bodega to provision for Monday — more on that later — and stashed those supplies in our car.
On to the good stuff.
Step on up to the Mestrovic Gallery.
Not a bad view for the Great Depression.
What are YOU looking at?
Good, clean, Christian sculpture at the Mestrovic Gallery.
Casual. The Mestrovic Gallery garden.
Split is on a peninsula, popping sideways into the sea. The tip of the peninsula is Marjan, a forested hill with a fat spine running east to west. You'd think that after a few dozen centuries someone rich would have paved the hell out of it, but against all odds, it has survived as the city park. You can use it to hike, swim, sit in the woods and smoke meth — all the traditional uses of city parks, dating back to Roman times.
It's also the home of a museum that's part of the Authentic Croatian Experience (TM). We walked a few beat up city blocks and about a mile into the park, in search of the Ivan Mestrovic gallery.
I am not a expert in Croatian art — it was only my second minor in college — but it's safe to say that Mestrovic (1883-1962) was the most internationally successful Croatian artist, in part because he ditched Croatia. His early years featured stints studying around Europe, as he found his place in the Secession movement. World War II was his impetus to pull up stakes and go global. He spent his last 15 years in the United States, teaching at Syracuse and the uber-Catholic Notre Dame. You've probably seen his stuff, liked it, and never found out who he was. He's known for symbolic, contorted figures, often ripped from the Bible. In D.C. you can see his St. Jerome outside the Croatian embassy; in Split his Gregory of Nin stands guard over the city gates.
And in his spare time, he was an architect. When living in Croatia, Mestrovic kept galleries and workspaces in both Zagreb and Split. During the economic bonfire of the 1930s, he designed a summer villa, overlooking the water, on the side of Marjan hill. It's got a beautiful lawn, and gardens, and colonnades. It's the kind of beautiful structure that just screams, "sorry about the millions of people in abject poverty right now, but I am absolutely killing the art game." The home survived the turmoil of World War II and a few decades of Yugoslavia's Communism Lite. It got cleaned up in the 1990s and now lives on as a permanent home for Mestrovic's work (at least until the aliens attack).
And that work is good! At the very least, it's distinctive. The highlight is a plaster copy of Mestrovic's "Pieta." The bronze version is in South Bend, but if we're being honest there's almost no chance that we take a vacation to Indiana, so it was good to see the copy. There's a gripping statue of Job, plus some enormous wood panel carvings of Adam and Eve. The Old Testament is theoretically more inclusive to Allyson than the New, so she didn't seem too bothered by it. If anything bothered her, it was the number of sculpted figures with very contorted necks. The art of Ivan Mestrovic speaks the heart AND the spine.
We had plenty of time to stroll through the gallery and the outdoor sculpture garden, and there wasn't much in the way of crowds to deal with. We even had time for the annex – every good art gallery has an annex – which was an old chapel down the road. It houses Mestovic's wood panel carvings of the Passion, plus an altar with a big ol' Jesus on a cross. Catholics like to give the Passion the comic book treatment — Allyson had also been dragged through sculptural renditions of Jesus' demise when we were vacationing in Portugal. We soaked in the Jesus, Allyson came no closer to redeeming her soul, and we moved on. Vacation takes priority over not burning eternally in the firey pits of hell.
En route to the parking garage, we stayed closer to the water and enjoyed views of the "beaches." Croatia doesn't enjoy the sandy gloriousness of southern New Jersey; instead they engineer man-made spits and docks that jut into the water. When we reached the urban core we stopped at Toto burger — a fabulous restaurant that had the proud distinction of being very close to the parking garage. We then collected the car and drove into history.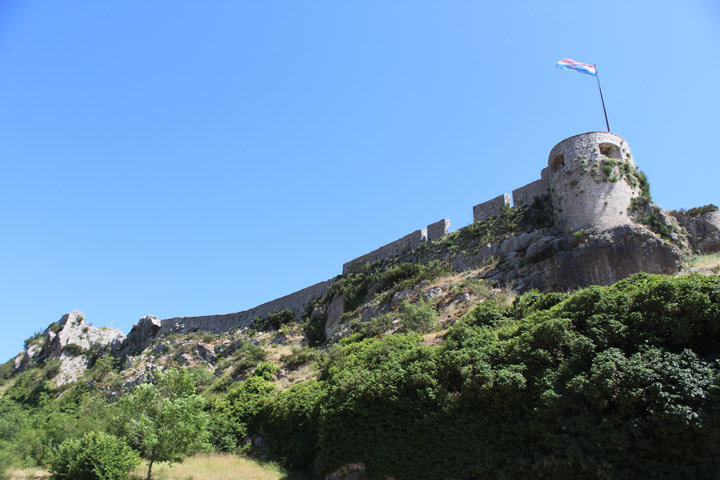 Klis! A fort for all seasons.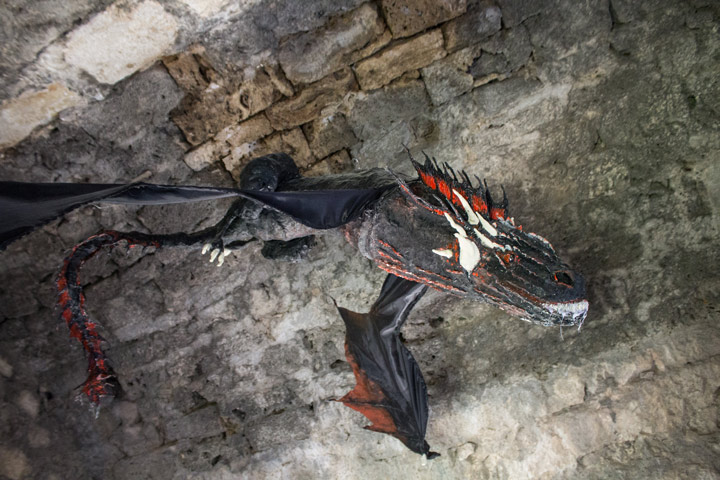 Dragons, naturally. Klis Fortress.
A nice view of Slavers Bay ... uh, I mean, Split.
Top of the world, ma!
The fortress at Klis, a little to the east of Split, is magnificent. Perched on a mountain ridge, it's more than 300 meters long and maybe 1/4 as wide. Built in phases over the centuries, it had lots of practical use. It was a headquarters for the Uskok guerrilla fighters, who were taking on the invading Turks impinging on Christian lands. They used Klis as a base for something like 40 years. If your fort can hold out against a hostile superpower for that long, it should clearly be regarded as a fine fort. Because it was a very difficult to assail — much like Hvar, you'd have to blow up your hamstrings for the opportunity to murder someone — it also served as a hideout when Croatian monarchs were in peril. Although you may think your heart thirsts for regicide, it's amazing how sprinting up a mountain can dull you passion for so many things.
Naturally, Klis was a third-tier tourist attraction until HBO started sniffing around. The fortress was the "Game of Thrones" shooting location for the city of Meereen, where aristocratic slavers enthusiastically squashed a huge underclass. What you saw on TV was not particularly close to the real thing, other than paved switchback trails on the side of the knife's-edge mountain. HBO goosed things slightly by adding a CGI pyramid, dragon storage facilities and a large bay. To their credit, they also added lots of hot nudity. All it takes to get people learning about your country's rich and complex history is a few papier mache dragons shoved in some side rooms, and memories of boobs.
By the time we visited, it wasn't clear if the "Game of Thrones" tide was rising or receding. There was no guide at Klis, and no tour to speak of; the overall experience mainly involved walking the length of the fort and admiring the views. But it was cool and uncrowded, with views of the water a few miles away. America may be the greatest country on Earth, but it's severely lacking in impregnable Medieval forts. As a dork for fortified structures, I heartily recommend Klis to all those who appreciate how batshit insane life was before the 1700s.
We kept the "GoT" vibe going by searching for alcohol. Croatia is about the size of West Virginia, so there has to be some natural limit on the number of "regions" within its borders. But we were assured there was a wine region, and that it was about 45 minutes away. We've all heard the stories about couples sipping on exquisite Croatian wine, shedding their inhibitions, then waking up naked and ashamed in Croatian cheese country. We wanted the dream.
What we found was "Rak Winery" near the town of Selenj. It had decent online reviews, and it met the most important criteria for curating your wine experience: It was close to a big road. As it turned out, Croatian wine country is less of a region and more of an aspirational collective of farms relatively close to highway exits. They're still working on the signage, and when we pulled into the Rak driveway we immediately wondered how badly we were trespassing and when exactly we'd be shot. The drive became very narrow as it passed several buildings that looked absolutely nothing like a winery — instead of a vineyard, we seemed to be driving through semi-rural Croatia's version of a Philadelphia alleyway. We would have turned around if there was anywhere wide enough to do so. But the only way out seemed to be forward, so we pulled ahead a few hundred feet until the building appeared.
It was sleepy, and small — more or less what you'd expect from a West Virginia winery, which we have also experienced, because we're classy. The staff seemed a little surprised, bordering on inconvenienced, to have patrons from another country busting up their Sunday afternoon. But they did grudgingly assent to sell us rose by the glass. And it was good! I had to drive, and Allyson can't drink two glasses of wine without risking insanity, so we were gone in about 30 minutes. But we had checked another thing off the list.
With the daylight hours remaining, we had time for one last attraction. Once again we picked up the D8; it was less dramatic than in the south and cut through a bunch of beach towns, but it was still nice enough. And the GPS eventually dumped us in the heart of a beach city: Zadar. The historic core is a Roman-turned-Venetian "Old Town," covering a little peninsula where you'd never want to drive. We parked in what we hoped was a legal spot, then walked to the point of the peninsula for our last big get of the day.
Korak Winery. Feel the sophistication.
Enjoying the smooth sounds of the Sea Organ in Zadar.
Sunset over a solar art installation in Zadar.
It was weird. The "Sea Organ" is in all the guidebooks as a thing to do, but it isn't much to look at. A few concrete steps descend into the water which is rising and falling with the tide. What you can't see is the pipes buried underneath the steps and dipping into the water. As the water swells, air is forced through the pipes to make some unusual low tones. If Philip Glass could write a whale song, that's what it would sound like. The steps are packed with people listening to a song that's not a song. Or in the case of teenagers, not listening at all while trying to grope each other in public. Still, if you have to watch horny teenagers while listening to the moaning ocean, you couldn't ask for a better view. Old Town Zadar late in the afternoon is just fantastic.
The vacation train requires fuel, so we strolled the sea wall and settled quickly on "Il Padrino." It was clearly a tourist trap with a "Godfather" theme — technically we were in a historic Italian city, and what could be more Italian than that? It had tons of outdoor seating. Allyson had pizza, I had tuna, and a bizarre musical duo from Argentina and Peru set up in the public park nearby. They played American jazz standards from the '20s and '30s. It was all very Croatian and authentic. The sun was starting to set over the water as we took one last stroll down the peninsula, to check out the "Greeting to the Sun" — a solar-paneled art installation that lights up at night. It was pleasantly reflecting the sunset, but it wasn't dark enough yet for the light show, and we didn't have time to stick around, as the mountains were waiting. Internet searches indicate that it looks like a 1979 dance floor. I think we're OK with our decision.
Most of the drive to the mountains was in the dark, along highways with lots of turns and no bothersome street lights. Sunday after sundown you don't get much traffic, so we crept along, arriving at Zrinka House around 10 p.m.
Zrinka House isn't a corporate name, and "Zrinka" doesn't have some logical English translation. Zrinka House is a house, in a fairly nice housing development, owned by a woman named Zrinka. She runs it as a bed and breakfast for people visiting the mountains. And when you roll up at 10 p.m. on a Sunday night, Zrinka is waiting for you. We were also greeted by Barbara, Zrinka's daughter. They were both wearing dressing gowns, and they didn't seem even slightly annoyed that we arrived so late. Barbara, who was roughly Allyson's size, grabbed one of our 50-pound bags and hauled it to our room. Zrinka grabbed the other. After a few warm and engaging moments of conversation, she invited us to come by the breakfast nook a little bit early the next morning, before we headed out for the day.
I don't know how Allyson finds these places. The world needs more Zrinkas.